Timket Celebration @ Gonder

UNESCO intangible heritage

Timket/Epiphany @ Lalibela

UNESCO Intangible Heritage

Timket / Epiphany

Intangible UNESCO Heritage
Celebrate Unique holiday of TIMKET/Epiphany in Ethiopia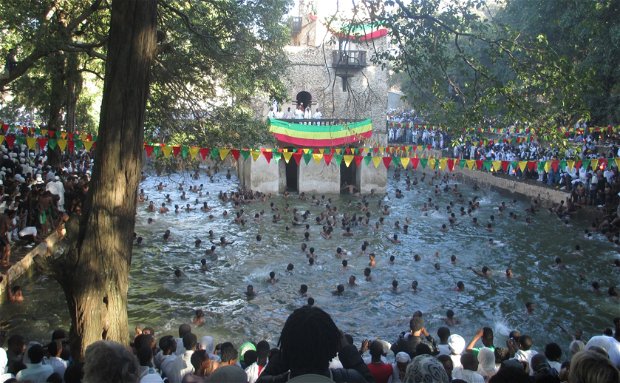 The package includes the peculiar religious celebration of Epiphany or Timket, an intangible heritage registered by UNESCO and other churches and monasteries that have great historical significance in medieval and modern times.
Timket or Epiphany is an intangible heritage registered by UNESCO of the Ethiopian Orthodox Tewahido Religion. It happens every year 10 days after Genna (Ethiopian Christmas) and the eve known as Ketera lies on January 18 and becomes 19 in a leap year. It is the day when all the replicas of the Ark of the Covenant (Tabot) are out and head to the resting place for the evening accompanied by the clergies, Sunday school students, and the Orthodox Tewahido religion followers. In the evening different prayers take place and in the morning after the procession is over, the blessing from the head of the church is forwarded and the Holly Water is sprinkled to all the people present. Shortly after the blessing, the replicas will return the same way as the eve to their respective areas. They all sing the season's religious songs with much more symbolism of the journey of Jesus Christ to River Jordan and his baptism at the hands of John the Baptist. It is celebrated throughout the country.
Gallery
Itinerary
Day 1 - Jan. 14, 2023
Arrival Addis.
Day 2 - Jan. 15, 2023
City tour of Holly Trinity and Be'ata Maryam Churches and museums
Day 3 - Jan. 16, 2023
Fly to Bahir Dar and boat excursion to nearby monastery
Day 4 - Jan. 17, 2023
Fly to Gonder and visit castle compound, Fasil Bath, and Debre Birhan Silassie Church.
Day 5 - Jan. 18, 2023
Celebrate Eve of Timket/Epiphany in Gonder
Day 6 - Jan. 19, 2023
Early morning, celebrate Timket/Epiphany in Gonder.
Day 7 - Jan. 20, 2023
Return flight to Addis. Evening Departure