Wenchi

Best Tourism Village 2021
Lake Wenchi / Wonchi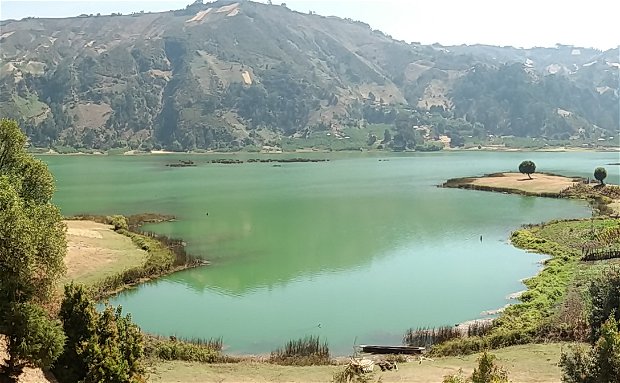 Ethiopia's Wonchi Crater Lake - one of the planet's Best Tourism Village 2021 by UNWTO
A 3-hour drive from the capital of Addis Ababa, Wenchi - situated at the base of an extinct volcano, is the beautiful legacy of a once-powerful volcano erupting in the Tertiary period of the Cenozoic Era. The volcano that erupted about 1000 years ago left an asymmetric caldera of rock which is now covered in lush green vegetation. The whole crater contains a large lake with small islands, hot mineral springs, waterfalls, and beautiful valleys and farmland. An old monastery with a church that is positioned on one of the lake islands also makes the spot more enticing and mesmerizing.

Wenchi Crater Lake is a piece of paradise on earth owing to its breathtaking landscape and beautiful scenic areas. The place that had the most powerful volcanoes once has been blessed now with a lot of natural endowments, hot springs, and waterfalls among others.
The site, because it is located in the closest destination to the capital and the construction of the Ambo-Woliso (the towns close to the site) gravel road, is becoming a favorable weekend destination for residents of nearby cities including Addis Ababa.
Major activities are Horse riding, Local Boat paddling, Hiking / Trekking, Bathing in the natural hot spring, and Camping.
What our clients say
A Memorable Experience in Addis Ababa

I had the pleasure of taking a half day tour in Addis Ababa at the beginning of December 2022, using the services of Pleasure Ethiopia Tour and Travel. I can say it made the difference. In a few hours, I got to experience a taste of Ethiopian culture, history and art, as well as the modern side of this rich culture.They identify themselves as the "Land of Origins", and... Read More

Rafael Lito Ibarra

El Salvador

Discover the genuine Ethiopia with Pleasure Ethiopia Tours & Travel

I just returned from a two-week journey with Pleasure Ethiopia Tours and Travel in Addis Abeba, the Rift Valley, and the Omo Valley. I would warmly recommend their services without any hesitation. The programme was very carefully designed, the drivers were prudent and punctual, the selected hotels were comfortable and well located, the restaurants offered a wide variety of local and international dishes, and all the proposed visits were... Read More

Anne Delvaux

Overijse, Belgium

Beautiful & authentic Ethiopian culture experience!

I had the amazing experience to travel with Pleasure Ethiopia. Not knowing where to begin I got to contact Nahome who arranged my 18day trip throughout the most prominent places in both the North and South of Ethiopia. And what a journey it was! Not only was he well prepared, but literally everything ran smoothly on my trip (very well-informed guides, airplanes, hotels). Traveling alone I've always felt safe... Read More

Naomi M.

Antwerp, Belgium

Our trip with PETT was unique and we got to know Nahome Bekele and his company as very dedicated, friendly and trustworthy. Having travelled a lot, I have hardly seen anything like it. We will certainly travel with PETT again.

Anne

Berlin, Germany