Game Drive in Ethiopian National Parks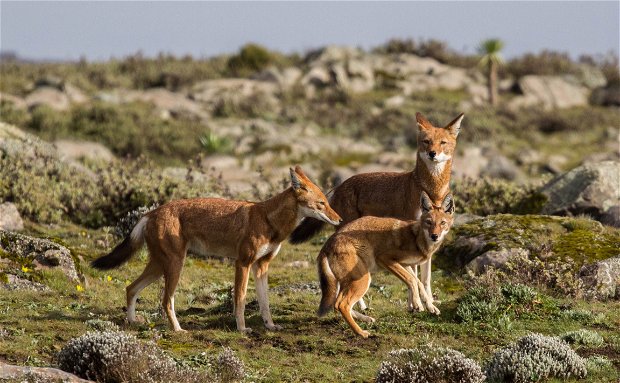 The Program incorporates the best highlights of its chosen National Parks where you will enjoy the art of nature and how Ethiopia is a diverse country in its rich flora and fauna. You will also enjoy the Great Ethiopian Rift Valley which crosses most parts of Ethiopia beginning in Syria and ending in Mozambique. Moreover, Bale Mountains National Park is another 'home of endemism' and a protected biosphere that is also to be registered as a World Heritage site.
Note: Please note that the below program is not rigid; It can also be tailored as per your time and interest.
Gallery
Itinerary
Day 1
Arrive Addis and City Tour
Upon arrival at Addis Ababa Bole International Airport, transfer to your hotel and rest a bit to minimize your jetlag, and proceed to the city tour which includes a drive through Mercato, the grand open-air market in Africa, Trinity Cathedral, National Museum, the panoramic view of the city from Mount Entoto and exploring the different statues, monuments, and avenues that have historical significance. Overnight Hotel
Day 2
Addis Doho Lodge. Visit Aledeghi National Park. 300 kms
Early morning depart to the east of Addis you will pass through different cities and towns of the Great Ethiopian Rift Valley with some stops en route. After lunch, you will visit the Aledeghi National Park where you will see Grevy's zebra, Sommerring gazelle, Beisa oryx, spotted hyena, and gerenuk. Then proceed to your overnight stay at Doho Lodge.
Day 3
Doho Lodge to Langano. 320 kms
Driving back through the rift valley, you will visit Abjata-Shala national park named after two of the four northern rift valley lakes - known for its ostrich farm, gazelles, warthog, and different bird species. If by chance, you might see kudu. Overnight Sabana Beach Resort - located at the shore of Lake Langano which is the only swimmable lake in the rift valley.
Day 4
Langano to Robe. En route visit Geysay Grassland. 220 kms
Enjoying the morning a bit, depart to the so-called 'Home of Endemics' Bale Mountains National Park. Before reaching Robe, you will have a short game drive at the Gaysey Grassland and visit Serval, Bohor Reedbuck, Mountain Nyala, Warthog, Olive Baboon, and if possible Hyena not to mention the likelihood of seeing the endangered and endemic bird Rouget's Rail. Proceeding to Robe you will spend the night at Sicomondo hotel.
Day 5
Excursion to Dinsho and Sanette Plateau. 230 kms
Morning excursion to Dinsho for a short hike to see the endemic Mountain Nyala and proceed to Sanette Plateau, passing Goba, to look for the endemic Ethiopian/Abyssinian Wolf with lots of beautiful sceneries en route. Overnight Goba /Robe.
Day 6
Goba/Robe to Wolayta Sodo. 350 kms
Driving back to Shashemene, proceed to Wolayta Sodo. En-route visit the Senkele Animal Sanctuary to visit the endemic Swayne's Hartebeest that was once endangered but is now protected by the community and their number has reached more than 800. Overnight at Abebe Zekele Hotel.
Day 7
Wolayta Sodo to Chebera Churchura National Park. 240 kms
Drive to Chebera Churchura National Park via the small towns of Chida and Ameya where you will visit the African Elephants and African Buffalo the next day. Overnight Lodge.
Day 8
Visit of Chebera Churchura National Park. 2 hours of Hiking and 20 kms drive
We will hike to see the habitats of the park. In this park, four habitat types were identified (riverine forest, montane forest, woodland, and grassland with scattered trees). A total of 37 mammalian species were recorded. The park harbors a number of larger mammals such as the African elephant, African Buffaloe, and Hippopotamus. Overnight lodge.
Day 9
Chebera Churchura National Park to Jimma. 140 kms
Drive to Jimma. If time allows you may visit the Jimma Afa Jifar Museum where you see very beautiful materials of King Aba Jifar who was the strongest among the five Kingdoms in the Gibe states – Jimma, Enarya, Gera, Guma, Gomma.  Overnight Homeland Hotel.
Day 10
Jimma to Addis. 350 Kms
Drive back to Addis and enjoy the farewell dinner in the evening at one of the traditional restaurants with a live performance of different traditional music from all corners of the country. Finally, you will be given a transfer to the airport for your international flights.