Best of Ethiopia Combined Tour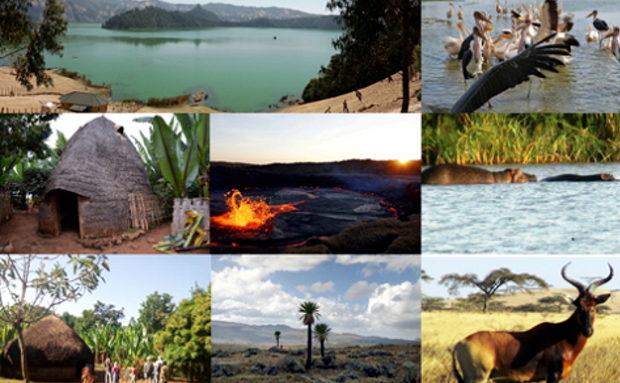 Exploring all-in-one on this tour is like nothing to miss from all types of our tourism products. Hiking in the villages adorned with nature and harnessed with the people living in and around them; wondering the craters, streams and the Great Rift Valley Lakes from one of the lowest, hottest and inhospitable Denakil Depression where you witness the active tectonic volcano physically to one of the highest and coldest peaks of Tulu Dimtu, and Dalol the jaw dropping colorful texture. Bear in mind that you will see one World Heritage Site registered by UNESCO (Konso) and one biosphere reserve (Bale) and rest assured it will be a life time experience.
Note: Please note that the below program is not rigid; It can also be tailored as per your time and interest.
Gallery
Itinerary
Day 1
Arrival and City tour of Addis
Addis Ababa, a city that is very young as compared to the country which has a history dating back over 3000 years. In Amharic, the Federal language of Ethiopia, Addis Ababa means new flower.
Founded in 1886 by Menelik II, Addis Ababa is located at 2500m (8,202 ft.) above sea level. Addis Ababa is also the seat of African Union (AU) which was used to be called Organization of African Unity (OAU) since 1960s and many other international organizations and over 100 Embassies. It enjoys an excellent climate all year round; with an average temperature of 160C. Addis Ababa is a pleasant city with interesting museums and one of the biggest open-air markets in Africa, known as Mercato.  After having a little rest in the morning, you will have a city tour that includes the following:
National Museum: - comprises many archaeological and historical findings including the famous complete hominid fossil remain of `Lucy` locally known as Dinknesh meaning wonderful. Visiting this museum means having a good summary of the northern historic route of Ethiopia.
Ethnographic Museum:- It is founded in the main campus of the Addis Ababa University by the Institute of Ethiopian Studies with the aim to preserve the country's historical and cultural heritages. It has complete collections that describe almost all the tribal groups in Ethiopia. Here you will have an overview about the history, culture and traditions of the people of Ethiopia. The collections include the nomadic tribal groups that are now living just as man's forefather lived thousands of years back. Visiting this museum means having a good summary of the southern cultural route of Ethiopia.
Merkato: - It is the largest open-air market in Africa. Here you will be presented with confusing, but fascinating, glimpse of the vast range of goods and artifacts available from all parts of the country and you will enjoy the Ethiopian trade exchange tradition in the open air.
You will also visit historical monuments that have great historical significance. Overnight Hotel
Drive to Wenchi Crater Lake, an area famous for its beautiful mountainous landscape partly covered by natural forest, artistically well-crafted by Mother Nature - via the town of Abmo where it is named after the natural sparkling spring water. You will pass the beautiful Oromo villages. Upon arrival at the local tourism office, horses and local assistance and local boat will be arranged and you will be dropped off to a point where you will start your hike/horse ride for 3 – 4 hours. En route you will enjoy the beautiful scenic views of the surrounding greenery, unspoiled whether, the source of the sparkling water - Ambo, the water mill, an old island monastery. After crossing the Crater Lake to the other end by local boat, make your last horse ride or hike the last 20 – 30 minutes. Then drive to Welisso and relax in the Negash lodge where you find some of the indigenous trees that are rarely seen in most parts of the country and explore some species of birds and mammals Black Headed Forest Orioles, flycatchers and weavers, Colobus and Vervet Monkeys. If time allows, you may also enjoy the swimming pool with hot water from the natural hot springs. Dinner and overnight Negash lodge.
Day 3
Drive to Dorze village
Driving through the Great Rift Valley, head to Dorze for overnight at Dorze Eco-Lodge that is owned by one of the locals and is situated in a highly elevated Guge Mountain chain with a magnificent breath-taking wider view of the Great Rift Valley lakes Abaya and Chamo. The area gets rain two-third of the year. The igloo shaped traditional houses are built from bamboo and have the face of an elephant. Locals have it that the design is in such a way for the memory of the elephants that used to live in the area many years ago and fled because of hunting. Overnight Dorze Lodge.
Hike around the village and one of the local will host you in their compound and visit their way of living. Every household has a green backyard where the Dorze are known for two things – False banana tradition and cotton weaving. Here you will see and attempt to spin a cotton and bake the 'KOCHO' – a thick bread like product of the stem of a false banana. You will also enjoy the whole process of fermentation of the false banana and related activities thereby understand how their life is tied with this plant. You will end up your visit with a traditional dancing of the Dorze which you will be invited to take part and be one of them. Upon departure, you may enjoy the different styles of colorful scarves the locals sell and have a moment to decide which one to take home for souvenirs to friends and/or relatives or yourselves thereby encouraging the art of handmade weaving and support the community.
Then drive to Arbaminch meaning 'forty springs' which is named after the natural springs in the forest. Having lunch, proceed to boat trip on Lake Chamo which is along the best anywhere in Ethiopia. One can spot many Hippos and the Giant Crocodiles (It is locally called as "Crocodile Market"). The water birds are great and the scenery is truly unforgettable. Fishing for Nile Perch and many other species by locals on their traditional boat is by far the best in the country. Overnight Paradise Lodge.
Day 5
Drive to Konso and visit their village
In the morning, with different photo stops for birds alongside Lake Chamo en route, Olive Baboons and traditional bee hives. Konso cultural landscape is one of the world heritage sites registered by UNESCO since 2011. Here you will visit one of their villages where you will have an authentic cultural experience about their way of living, house construction and so on. Then the beautiful natural scenic spot of soil pillars, locally called 'New York'. It is called New York because the soil pillars look like the lined sky scrapper buildings. On the way back visit one of the nine Konso clan chiefs' house and their cemetery where you will see the wooden grave marks locally called 'waka' (very interesting). Overnight Kanta Lodge
Day 6
Drive to Yabelo and Excursion to Borena National Park
Drive to Yabelo with different photo stops of your interest along the way. Upon arrival check in your hotel and after having lunch proceed to Borena National Park or also known as Yabelo Wildlife Sanctuary which covers an area of 2496 km2 with habitats of the two types of Zebras - Burchell's and Grevy's zebras. In addition the park is known for its endemic bird species of Ethiopian bush crow, Abyssinian hornbill and white-tailed swallow. Prior to our departure to the park, we take a scout from the local tourism office and drive for a game drive. Overnight Yabelo Motel.
Day 7
Excursion to El-Sod and Singing well of the Borana people
Drive to Dubluk and visit the local people's traditional song (singing well) where the Borena people (men) water their cattle in dry seasons from a deep well which can be up to 30 meters deep. Here the men line down to the well and toss buckets of water between one another raising their voices in song while doing so. 
Proceeding to El Sod – created by a volcanic explosion and currently local people extract black salt mud and transport it by donkeys all the way up to the village. Going down is not very difficult but the way back is a challenge with lots of stops to take a breath. Finally, return to your hotel for overnight.
Day 8
Visit Tutu Fela megalite stelae site and Shepe rock art at Manchiti
Drive to Yirgalem. En route you will have a stop at Tuto Fela – one of the many megalite stalae sites which was the the first dated site in Gedeo and it lies between 11th to 12thc AD housing numerous densely packed stelae that are variously carved with features of phallic, facial, ribs, and breasts.  
After having lunch in Dilla town proceed 7 kms to Shepe or Manchiti rock art discovered by one of the Dilla district governor, Fitawrari Sileshi Difabachew, in 1965. It is found in the narrow gorge carved by the Shepe River. Since its publication in 1967 by Francis Anfray its importance has been widely recognized. The partially collapsed frieze depicting about 50 cattle, thought to be at least 3,000 years old. However, the site is threatened by absence of sustainable protection whereas it's one of the most impressive rock art sites in the Horn of Africa. 
Continuing the drive arrive late afternoon to Aregash Eco-Lodge established by the families of their mother named Aregash. They serve you all the vegetables from their backyard. You will enjoy the greenery of the compound and the surrounding where you will find different types of vegetation and fruits like Avocado, coffee plantation and more. The rooms are circular and built from bamboo, the same as the local traditional houses.
Day 9
Sidama Village visit and excursion to Senkele Sanctuary
Visit the very green Sidama village with hiking and have a traditional coffee ceremony in one of the households. Then drive to Hawassa. En route we might stop for birding and/or Colobus monkey and also at a road side basketry market where you find shopping bags, huts, and wall and table decorations. All are hand-woven by the locals. Taking an item as souvenir from this area is one way of supporting the community and the art of traditional basketry in general.
After having lunch in Hawassa, we will make excursions to Senkele Wildlife Sanctuary, 48 kms from Hawassa, that is, a protected area dedicated especially to the protection of the endemic Swayne's Hartebeest. Have a short game drive to see this endemic mammal and some other bird species too. Returning to Hawassa, overnight Haile Resort.
Day 10
Drive to Robe for overnight
Visit the fish market near lake Hawassa, one of the southern rift valley lakes, known for it high concentration of fish. in the morning where you find a kaleidoscope of activities by the fishermen, local consumers, aquatic birds, Vervet monkeys and more. Walk a little bit in the forest/recreational park near the lake. Proceed to Robe for overnight at a local hotel. En route we will have a stop at different scenic spots. Overnight Sico Mondo Hotel.
Day 11
Excursion to Dinsho, Game drive to Gaysay Grassland and drive to Goba
Today, drive to the town of Dinsho and you will have a hike in Disho lodge to spot the endemic Mountain Nyala, Menelik Bushbuck, and the common Warthog and different bird species such as marsh harrier, Abyssinian ground hornbill, spot-breasted plover, Rouget's rail, wattled ibis. Dinsho serves as a headquarter for the Bale Mountains National Park. Later the day, we will have a game drive in the Gaysay Grassland which is dominated by Hagenia abyssinica and African juniper (Juniperus procera) trees that cover the woodlands. Here you find Bohor Reedbuck, Grey Duiker, Spotted Hyena (in the evening) can be seen. Drive back to Goba. Overnight Goba Wabe Shebele Hotel (big with simple facility).
This day, we will pick our scout/local guide for our activities at Bale Mountains National Park.
Day 12
Excursion to Bale Mountains National Park
You will be outside full day in Bale Mountains National Park also known for 'Home of Endemism' due to the many endemic and semi-endemic bird species such as Rouget's Rail, Spot Breasted Plover/Lapwing, Blue Winged Goose, etc and mammals such as Abyssinian Wolf. With our scout/local guide from Dinsho, we hike for about one and half hour enjoying the Giant Lobelia plant that grows at an altitude above 3000 meters above sea level, searching for the canine Abyssinian Wolf (it requires a patience sometimes), drive up to the second highest pick of Ethiopia – Tulu Dimtu (4377 masl). Then drive to see the escarpment of the Harena Forest. Finally drive back to our hotel. overnight Goba Wabe Shebele Hotel. 
Day 13
Drive to Langano visiting Abyata-Shala National Park.
After breakfast drive Langano – one of the Northern Great Rift Valley Lakes visiting the Abiyata-Shalla National Park to see the Ostriches, Gazelles and the view point of the two lakes of Lake Abyata and Lake Shalla where there is a natural hot spring at which the local people uses as a steam bath and boils eggs and maize. Then drive to Sabana Beach Resort situated at the shore of Lake Langano. The lake is tea color and you can swim in it or enjoy the greenery and bird songs in the compound. Overnight Sabana Beach Resort.
Drive to Awash National Park that used to be one of the best game viewing reserve in Ethiopia.  A magnificent 150m deep gorge carved by the Awash River forms a substantial waterfall where the river spills into the gorge Combination of habitats to the national park, including riverine forest, acacia woodland, Savannah and wetlands, and it harbors a similar variety of birds.  Over 460 species of bird have been recorded in this area. Wild life seen in the vicinity of the park includes Beisa Oryx, lesser kudu, warthog, salt's Dik-Dik, Hamadryad Anubis Baboon, spotted hyena and more. But currently, human interference has declined the reputation of the park. However, it is still one of the best place for bird watchers. Overnight Awash Falls Lodge.
Day 15
Game drive in Awash National Park and drive to Semera
In the morning, you will have a game drive in the park and drive to Semera passing different small towns along the way. Overnight Kuriftu Hotel.
From Semera driving to Ertale which means the smoking mountain in the local language of Afar. Ertale is the active volcano where you can see the lava boiling from the top. The depth of the lava varies from time to time and sometimes only smokes are seen. The whole area of Afar is called The Afar Triangle or Afar Depression or Denakil Depression. This tectonic activity is part of the Great Rift Valley which begins In Syria, crossing Ethiopia, ends in Mozambique. It is expected to split the Horn of Africa from the rest of the continent. Before reaching Ertale, we stop at Afdera – a small town very well known for salt extraction – where we will pick scout and road leaders for the desert drive and the days ahead. We may see Ostriches on our way in the desert drive. Parking our cars at the last place we hike about 30 minutes to the top of the lava crater which is one of the few active volcanoes in the world that can be seen from the edge. However, you need to be careful on the edge by not stepping on the very edge as it is hollow beneath. Enjoy the lava melting geology process in the evening. Overnight camping in the open air small stone walls at the cliff near the Volcano.
Caution: Beware of your moves on the lava, wear strong walking shoes, face masks, glacier glass, gloves, and long sleeve.   
Very early morning, hike down before the sun gets hotter and drive to Hamedela. You will have your picnic lunch en route and arrive in the afternoon at our Camp site at Hamedela. After setting up our camps, we may find the numerous camel caravans crossing the village to spend the night nearby for their journey tomorrow to extract salt bars. Their journey and such activities have been practices for centuries.
Day 18
Excursion to Dalol and the surrounding
Early morning, before the sun gets hot, drive to Dallol and see the colorful sulfur area that has unforgettable texture which changes every season by the underground tectonic reaction. Shortly after, drive to see the so called 'Salt Pyramid' and see the endless salt field where the locals extract and carve out the slat bars and load on their camels (caravans). The only date salt extraction doesn't take place is Friday because of Juma. Drive back to Hamedela for overnight camping.
Early morning, drive to Semera for overnight at Kuriftu Hotel
Day 20
Fly from Semera to Addis
You will have a morning flight to Addis. After resting and additional exploration of the city, you will have a farewell dinner at one of the traditional restaurants where you will enjoy the authentic traditional cuisines with cultural music and dances from different ethnic groups.