Genna (Ethiopian Christmas)

A must-seen once_in_a_lifetime
Genna - Ethiopian Christmas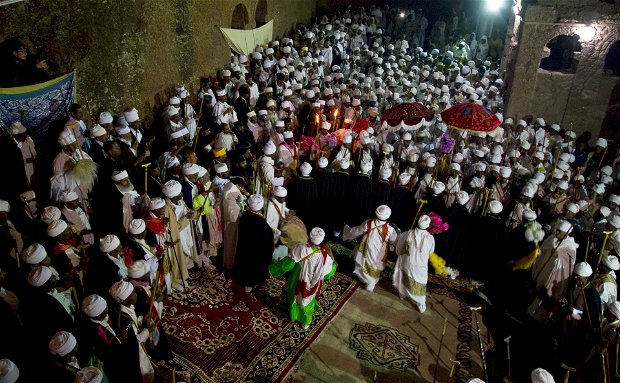 Genna in Ethiopia is the local name for Christmas and is celebrated on January 7th. It is a very important Ethiopian holiday. It is highly celebrated in Lalibela - one of the UNESCO World Heritage Sites. Celebrating Genna at Lalibela is a must to be there for everyone once in a lifetime. Visitors to the country can get an insight into the religious traditions and culture of the African nation. Following Ganna, after 12 days, another important holiday Timkat/Epiphany festival comes.
Gallery
Itinerary
Day 1: Jan 2, 2023: Arrive Addis. Overnight Jupiter Hotel
Day 2 - Jan 3, 2023: City tour of Addis Ababa. Overnight Jupiter Hotel
Day 3 - Jan 4, 2023: Fly to Gonder. Overnight Goha Hotel
City tour of the castle compound, Fasil Bath, and Debre Birhan Silassie Church.
Day 4 - Jan 5, 2023: Fly to Lalibela. Overnight Lal Hotel
Visit the Rock Hewn Churches of Lalibela.
Day 5 - Jan 6, 2023: Visit of the second group of churches. Overnight Lal Hotel
Attend the evening religious ceremony of Genna (Ethiopian Christmas).
Day 6 - Jan 7, 2023: Celebrate Genna (Ethiopian Christmass) - Fly to Bahir Dar. Overnight Napi Hotel
Celebrate the morning session of the Ethiopian Christmas (Genna) from one of the first group churches - Bete Maryam. Then fly to Bahir Dar and in the afternoon have a boat trip excursion on Lake Tana to one of the nearby monasteries.
Day 7 - Jan 8, 2023: Visit of Bahir Dar. Overnight Napi Hotel
Excursion to Blue Nile Falls.
Day 8 - Jan 9, 2023:
Fly back to Addis. Evening Departure.